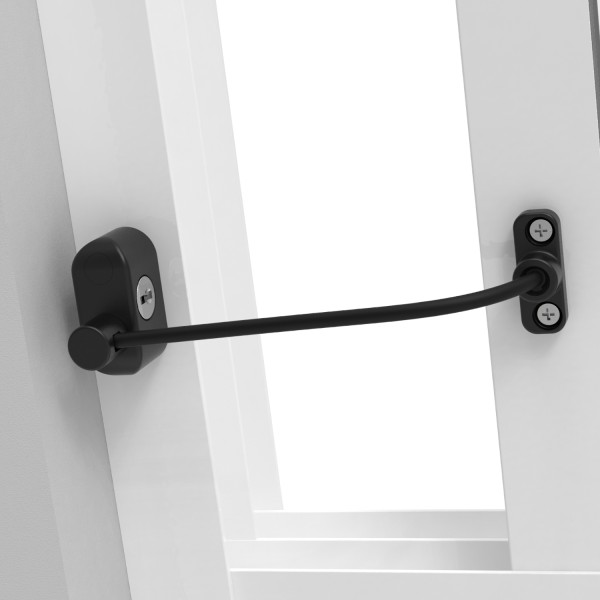 SS0006
SS0006 Cable Window Restrictor
The Doric SS0006 is a universal cable restrictor suitable for all window types and materials.
It features a universal lock suiting a wide type of windows and frame materials including timber and aluminium.
Its compact design which includes a high tensile steel cable allows users to restrict their windows at a predetermined distance for safety & security without the use of a key.
NSW Requirements
Unfortunately each year on average more than 50 children fall from windows or balconies in Australia. While many of these suffer serious injuries, some have been fatal. Since 13th March 2018, child window safety requirements have been applied and by law all strata buildings and owners' corporations in NSW must have window safety devices installed in all common property windows.
Features & Advantages
SAFE & SECURE
Includes a strong & high tensile steel cable wrapped in a colour-matched nylon
MAINTENANCE
The unique release system allows users to open windows to its maximum opening for cleaning or maintenance purposes if required
UNIVERSAL
The SS0006 suits all window types whether it be timber or aluminium
AUSTRALIAN COMPLIANT
The SS0006 enables the installer to restrict any type of window to less than 125mm opening complying with Australian standards such as ICP005 – Protection of Openable Windows
KEYING
The SS0006 can be keyed alike to suit existing window locks within a building or home
TESTING
Strength tested to exceed the 250nm as required by the strata act and the BCA
Part Description
Part ID
Keying
SS0006 Cable Restrictor
9048992
Keyed Alike
9051067
Keyed Differently