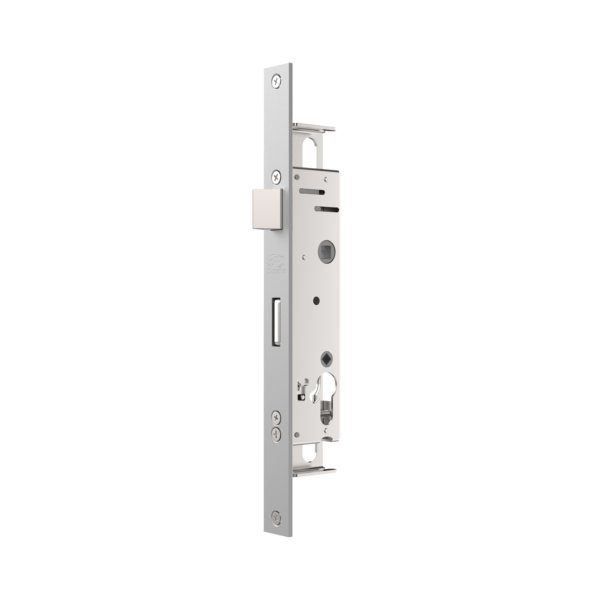 MDS2800
DS2800 | Lift to Lock Mortice Lockbody
Buy Now —
$150.38 – $166.47 inc. GST
Temporarily Unavailable in 30mm sets until further notice.
The DS2800 Lift to Lock Mortice Lockbody is designed specifically for aluminium residential and
commercial doors, it builds upon the success of its predecessor the DS1297 lockbody.
The DS2800 goes beyond the standard latch & deadbolt by incorporating a vertical shoot locking kit.
This kit adds two additional bolts to the head & sill of the door frame, transforming the lockbody into a four point locking system.
This mechanism effectively prevents external tampering when the locking bolts are engaged in a locked position.
It adds an extra layer of protection and reassurance to users.
Another improvement in the DS2800 is the redesigned Mid-Guide mounting system.
This upgrade aims to simplify the installation process and eliminate the need for additional tab mounting
components.
Users now have the option to surface or flush mount in one kit.
By streamlining the installation, users can enjoy a more straight forward and efficient experience when installing or
upgrading their current lockset.
Advantages
MAXIMUM SECURITY
The inclusion of four-point locking allows
for multiple points of engagement as well as
enhanced security and deadlocking capabilities
QUICK ACCESSIBILITY
Lift to Lock mechanism can easily engage
locking bolts & rods which then can be
disengaged and with the turn of a handle
COMPATIBILITY
Designed with a reversible spring-loaded
latch tongue the DS2800 can suit either
Left-Hand or Right-Hand hinged doors
and can be changed without hassle.
DAY LATCHING
When partnered with Snib Furniture provides
the ability to secure the door from the inside
without the use of keys for quick access.
SECURE & DURABLE
Introduction of over-camming mechanism is
thrown & deadlocked position prevents external
tampering for additional security.
INSTALLATION & SERVICEABILITY
Cartridge style significantly improves
on-site installation and adds serviceability
when maintenance is required. The improved
accessory kit offers sophisticated fitment
reducing resonation within the door frame.
Testing
Cyclic Test: Completed and surpassed functionality test according to:
ICP 002 – Windows & door Hardware. Achieved 100,000 cycles.
Maximum Torque Test: Tested on standard hinged furniture in deadlocked configuration. Completed and surpassed 76Nm.
Product Details:
Backset
Available in 30mm & 40mm
Spindle to Cylinder Barrel Pitch
Industry Standard 85mm
Spindle Type
8mm square
Latch Projection
14.5mm
Bolt Projection
18mm
Vertical Throw
18mm
Materials
SS304 Face Plate
Recommended Cylinders
Floating Cam Cylinders:
DS196NSK – 62mm Euro Cyl.
DS200NSK – 70mm Euro Cyl.
EPEC – Digital cylinder upgrade
DS2800 Lift to Lock Brochure
DS2800 Comparison to DS1297
DS2800 Installation Guide
How to Order:
Code
MDS2800
Furniture Plate
1500=SS no snib
1504=SS w/snib
1600=PC no snib
1604=PC w/snib
Lever
5=Swan
6=Tumut
Cylinder
DS196NSK
DS200NSK
EPEC
Keying
KA
KD
96###
Strike
S=27mm lip
M=34mm lip
L=72mm lip
X=no strike